Orgasm Weekends for men
The course is aimed to give you better sexuality together with the strategies and skills for better partner sex. You will find that you are able to enjoy sex more due to greater knowledge as you will be at a higher realm of awareness.
Programme
Friday

Evening:

Video lecture
Saturday:

Saturday morning's introduction is followed by a question and answer session with a discussion about how individuals feel about their body and orgasms, masturbation and partner sex for the last five years.


Education in how you can train yourself to:

Achieve higher levels of sexual arousal for longer
Be able to choose when to ejaculate and train yourself to separate orgasm from ejaculation. so that you can get several dry orgasms before you choose to ejaculate
Dynamically use all your body resources such as: Pelvic floor movemen; hip and spine movement and also sound-on-breathing (Pia's 'mixer')
Move from small ejaculations to deep orgasms, multiple orgasms and hour-long states of ecstasy.

Sunday Morning:
We will watch some scenes from the videos "Fire on the Mountain" and also "Uranus" and then, individually, try many of the thirty massage strokes led by a male supervisor.
Fire on the Mountain
Male Genital Massage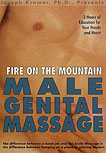 In this instructional DVD, Joseph Kramer Ph.D. teaches the joys of giving and receiving a Taoist Erotic Massage, a form of erotic touch that often leads to a spiritual and transformative full-bodied orgasm.
This three-hour DVD includes erotic massage demonstrations in German with five additional interviews with erotic masseurs plus a resources section.

Good Vibrations says: "Treat your favorite penis to the ultimate hand-job, courtesy of the detailed live action instructions. Two male lovers demonstrate 25 different strokes on each other. Male and female viewers alike will be inspired to try them all."

Margot Anand author of 'The Art of Sexual Ecstasy' wrote: "There is no better DVD to teach a woman the art of male genital massage which is why I use 'Fire on the Mountain' to train my SkyDancing Tantra teachers". Although 'Fire on the Mountain' was produced for a gay audience all men and women are invited to use this instruction to learn Taoist Erotic Massage.
Uranus
Self Anal Massage for Men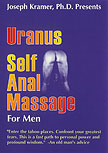 Anal pleasure and health are important frontiers to be explored. This DVD offers complete instruction in self-anal massage. Learn impeccable hygiene, enemas, sphincter muscle toning, and relaxation of the butt muscles. Explore the pleasures of sphincter massage, enlightened prostate massage and simultaneous anal and genital stimulation. Discover the best positions, toys and dildos to maximize your pleasure.
This self-anal massage can be important for men's well-being and health because the anal area is a place where we hold our paranoia and fears. It can also be extremely relaxing, pleasurable and erotic.